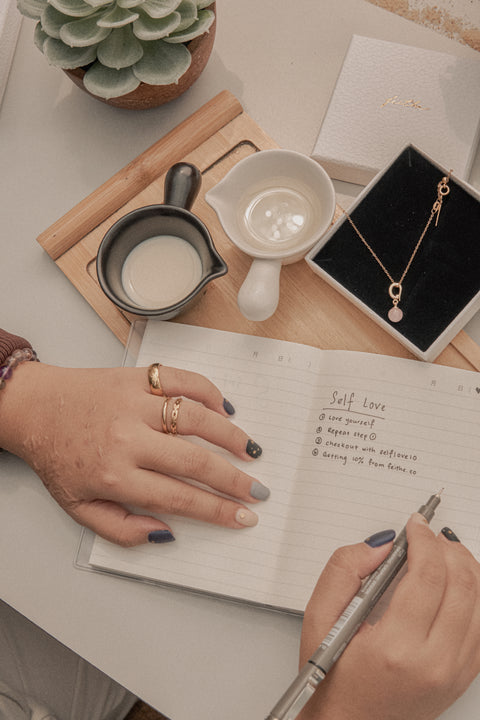 A personal letter from our founder, to reflect & celebrate Feithe's four year journey.
Our third year celebration felt like it was just yesterday, the year we moved into our small, cozy working studio, revamped our brand, upgraded our website and launched our 'Home and Living' collection. The third year meant so much to me at that time because it was the first year I celebrated publicly, and called Feithe my very own brand. During the first 2 years, I saw Feithe as my aspiration, to create a brand that centres around inner strength and be a companion to those in their healing journey. I ended up being anxious more than anything because I felt like I did not reflect my brand in the best way. A part of me was afraid if people knew that the person behind Feithe was not the best version of herself.
In 2021,  I began a deeper healing journey with Feithe. I want to be seen, to be known as the person behind Feithe, I want to be proud of what I created. I spent a whole year researching, nitpicking details to shape Feithe into the brand that I would be proud of. Feithe's birthday during 2021 marks a year of healing and a celebration for myself. Being able to step out of my shadow and celebrate alongside my team, who made this happen!
Now that we've reached Feithe's 4th year milestone, we start acknowledging a different side altogether. It feels like Feithe has grown into a working adult with responsibilities! We started the year with a lot of transitioning from a fully online "introverted" brand to appearing at public pop-ups and sharing reels about our process.
Running a small business is difficult, I'm sure all small business owners can relate. Especially with a small and niche team, we've been working non-stop crafting jewellery, managing day to day admin work, exploring designs and packaging, planning our social media and digital marketing (with Instagram's algorithm constantly challenging us), fulfilling online orders and showing up at pop-ups on weekends (KUDOS TO THE TEAM!).
As exhausting as it may seem, it was the people who kept us going. Our customers, both old and new, as well as, our vendors and neighbours at pop-up events. We were part of this community and it feels like this is the most exciting time to be in it. I love exchanging stories with other people and pairing them with a crystal that matches their personality.
Four years was not easy with all the hurdles of anxiety and panic, we've grown to embrace the power of fulfilment. Feeling blessed and thankful to have everyone, including you, our reader, supporting Feithe throughout the years. I wish for Feithe to accompany you during your new beginnings and share a warm hug wherever you are in your journey. For years to come, we promise to grow and surprise you with an elevated experience each time you visit Feithe. 
Love,
Sharon