Artemis Bracelet
by Feithe
Regular price
RM474.00
Sale price
Pickup currently unavailable
Share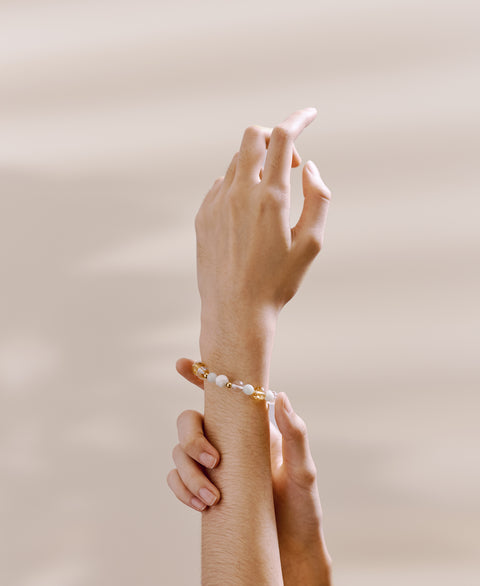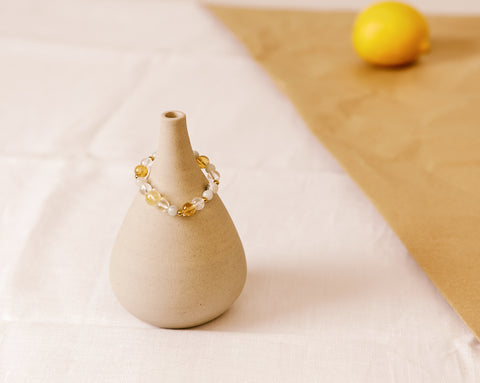 We have to agree that life's full of boats adrift. It causes many emotional wounds and pains, simply are beyond "sadness". Quick advice often feels false or even insulting because the pain is not understood. Avoidance of pain on the other hand only increases it, therefore we intend to urge importance of acknowledgement, embracing and honouring of pain in the process of healing. Scars can be healed with pain lessen over time and be turned over to positivity with a stronger mind, body, soul, intention, and Feithe. Feithe features Citrine, Clear Quartz, Howlite, and Nephrite Jade in Artemis Bracelet for the intention of healing.
Citrine energises every level of life and cleanses the 7 Chakras for widening intuition. From imparting joy, wonder, delight and enthusiasm, promoting motivation, creativity, and self expression, to releasing negative traits, Citrine is the stone for definite self-esteem and confidence. The "master healer" Clear Quartz neutralizing energy revitalises the physical, mental, emotional and spiritual planes, which is helpful in stimulating immune system and bringing balance to individual. Howlite is a lovely stone to use when needing to reduce anxiety, tensions, and stress, as well as facilitate awareness. In return, eliminate emotional suppression, gain calmness and patience which also aids in persona with insomnia. Taking ownership of your body, mind, and emotion is also a helpful step in the process of healing and recovering, Nephrite Jade transmutes negative energy to positive, allowing divine energy to enhance life circumstances. In crucial moments, it claims the nervous system to have better control over own body.
All our work is made carefully by hand with love, intention, and Feithe.
Product Details
Citrine, Clear Quartz, Howlite, and Nephrite Jade

14k Gold filled stainless steel spacer beads
Crystal Beads size 8mm
Withstand sweat and water
Please note: Each pieces of crystal may vary slightly in size, appearance, grain & colour as our crystals are natural element & hand crafted.