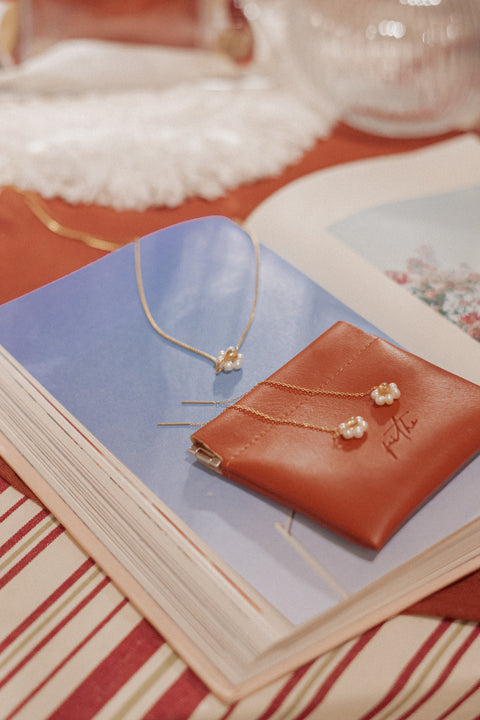 A Feitheful 2022.
Brand Packaging
This year, we've reached a few milestones with Feithe. Starting with our Packaging design! We practised design + functionality to create something that is aligned to our brand. We are so thankful that we received compliments and support from our customers. Alot of you shared your appreciation for the effort and thought put into the new packaging.
Packagings are most often the first thing you see when making your purchase.And so, we wanted to incorporate our brand's intention onto the packaging itself - as a kind reminder of the purpose behind Feithe.The material - Recycled Card Board are not only environmental-friendly but also sturdier than the previous packaging.

Collections Launches
Theo
A collection inspired by Sharon herself. Often curious with the Serpents that appeared in her dreams, she realised they were symbols of protection as her mother's zodiac animal is also a snake. With the intention of protection and healing, the Feithe team spent months conceptualising this intimate collection.
Wildflower
A collection that is out of our comfort zone - we had wanted to start a flower design for a long time but we weren't sure if the concept would align with Feithe. And yet, after many discussions with the team, we managed to pull this off! We hope the collection inspires inner Strength, much like a Wildflower.
More Gemstones added!
Bringing in new stones for you, some of which are actual requests from our customers. From Carnelian to Smoky Quartz, we care about the Gemstones you receive and do our best to fulfil them.
The First Times
Engraving Contest
This is a year of many firsts! One of it is hosting our own Design Contest. We got to see everyone's creative side and loved receiving your submissions. We learned a lot from this experience from planning to shortlisting, even choosing the winner was a difficult process. We're grateful the contest connected our customers in a a more engaging way, allowing you to be a part of the design process! We'll definitely be hosting more of these in 2023.
Jewellery Workshops
We also hosted our first Jewelry Workshop this year! After the lockdown was lifted, we knew we wanted to connect with our customers either through online or physical meet ups. Through these workshops, we got to meet with some of you and share our creative process too. We'll be launching more workshops and emphasise on handmade jewellery next year - perhaps even a Feithe Jewellery Craft Kit.
Pop-up Booths
2022 was a year filled with BAZAARS! Finally we got to meet our Feithe-ful community and make new friends at various events! Thank you for showing your support for our brand and we hope to meet you all more often in 2023! We might even host one at a space of our own - Feithe studio meet up, anyone?
Upgrades
Crystal Cards
As our Crystal collection grows each year, we took some time to redesign our crystal cards! Each Crystal card is gifted to the customer based on their purchase. Our intention was to make a card that shares the features of each unique Crystal and give you the option to repurpose these cards into bookmarks, collectibles and more.
Website
Our Website is always evolving for a seamless experience for our community. We started posting articles on the creative process behind Feithe and our collections. Adding Chinese translations to our pages was a big move for us, especially to cater to a wider customer base. Lastly, we upgraded our payment gateway for a smooth sailing check out.
Engraving Machine 
We had always loved the idea of jewellery customisation and giving the customers freedom to 'design' their own pieces. After launching our Ronde pendant, we collaborated with an engraving artist to work on more pieces. Its one of our longest collaborations as a lot of trial and error was involved. We find our customers leaning towards machine engraved jewellery as opposed to hand engraved because of its detail and perfection. And now, we own a laser engraving machine to produce our own customised jewellery!
Gashapon Machine
This one goes out to our inner child dream! As kids, we would often be lectured for spending tokens on a Gashapon Machine. Now that we're adults, Sharon bought one for herself! Reintroducing a fun interactive way of not knowing what you'll get till you spin the wheel. Its a definite crowd pleaser at our bazaars and watching everyone's reactions is part of the fun.
Feithe went Global
Feithe's Thailand Trip
Despite a busy year, we managed to squeeze some time into travelling. The team took a short trip to Thailand to rest and go Crystal scouting. We shared bits and pieces of our trip from where to eat and the stones we found - it came as a surprise when our followers were interested with our journey. Looking forward to sharing more of our travels in the coming years!
Orders from China
Since 2019, Feithe is available on XiaoHongShu. We've had a steady growth and learned alot from interacting with our customers on a different platform. Adapting our content and captions based on the trends of XiaoHongShu was an interesting challenge and we are thankful to be able to reach out to a global audience.
Noël With Feithe
Feithe makes an apperance at Isetan KLCC! One of our biggest achievement of the year was to be able to make an appearance at one of KL's longest running Department Stores. Releasing 'Noel with Feithe' in time for Christmas and hosting activities here such as Tarot Reading, Jewellery Making Workshop and more. Where will our next pop-up take us?